Product Description
Triomph BMI Body Fat Scale with Step-On Technology, 10 Users Recognition, 400 lbs Capacity 6mm Tempered Glass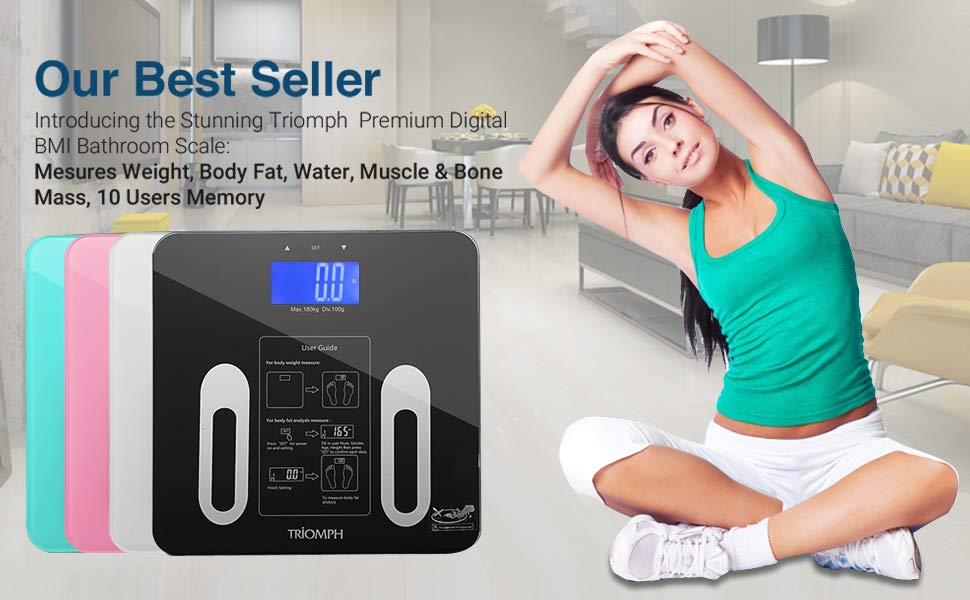 Triomph Health Body Fat Scale From France, Witness Your Beautiful Metamorphosis !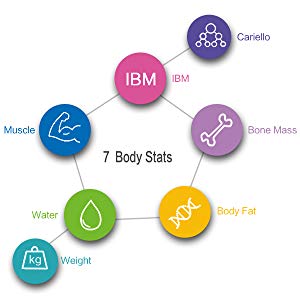 Features
Color: Black/ White/ Pink/ Blue

Languages: English, French, Chinese

Weight capacity: 6.6lbs-400lbs(3kg-180kg)

Weight measurement: Pounds/Kilograms/lbs-stone

Battery: 4 X AAA Batteries required (Included)

Product dimensions: 111 x 11 x 1 inches (280x280x26mm) ;

Body fat measure range: 5.0%-50%

Body hydration measure range: 20%-70%

Rate graduation: 0.1%
7 Ways To Look At Health Body Measurements

Triomph 15% larger font and large backlit LCD display provides you readability of you and your family members' Weight, BMI, Body Fat, Body water, Muscle mass, Calorie and Bone-mass percentages.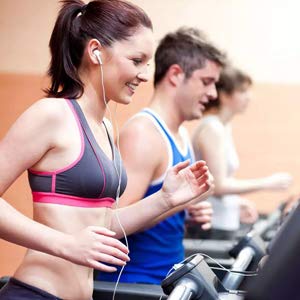 Functions
Step-on Function allows you to simply step onto the scale and in seconds you will have an accurate readout with .2 lb accuracy resolution on the LCD display with cool-blue backlight.

As soon as the weight displaced on the platform is stabilized,the clear display will flash and lock results for easy recording.

Back switch button,three weight unit settings allows you to change the measurement unit readability from pounds to kg to lbs.

10 Users (P0-P9 ) Recognized,feel free to use this scale yourself or share it amongst your family or friends.
Staying fit and healthy is a numbers game,that's why Triomph uses the most advanced sensors in the world to deliver the most trustworthy results.
Built for Accuracy and Durability: Never Settle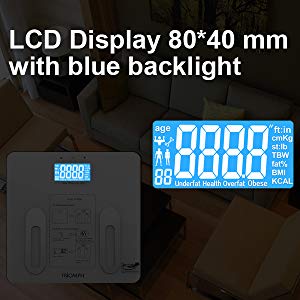 Four High Precision Sensors.
With low power MCU and 24-bit conversion chip,Triomph has a processing resolution of 16 million,with a much higher precision than those of 12-bit conversion processing unit,super performance, but 4 times faster.

Three intergrated layers of ABS material,tempered glass ,and stainless steel providea stable,durable and stylishly morden platform.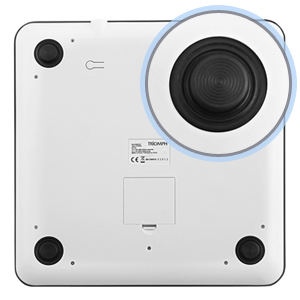 Package includes:

1x Body Fat Scale
1x User Manual
4x AAA Batteries
Let us know any problems or advices from you,we will reply you within 24 hours.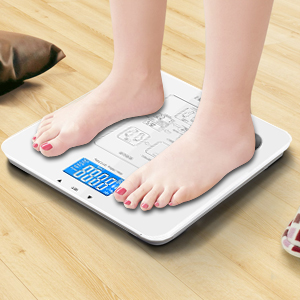 Note:
Body weight naturally fluctuates throughout the day. People are lighter when they wake up, heavier in the middle of the day, and lighten again toward the end of the day.

This scale is designed for use on flat, hard surfaces. Measurements will be compromised on not ideal surfaces.